Our story
SNEHAL SHAH studied at CEPT University, Ahmedabad, graduating in 1980. His thesis was supervised by B.V. Doshi. He then undertook postgraduate studies at the Architectural Association in London under Royston Landau, and Robin Middleton supervised his history paper on Labrouste and Quatremere de Quincy. He worked in Lugano, Switzerland, at the studio of Architect Mario Botta and also passed the RIBA Part Three examination in that same year. In 1987, he returned to India to establish his own studio in Ahmedabad under the name SNEHAL SHAH ARCHITECT (SSA).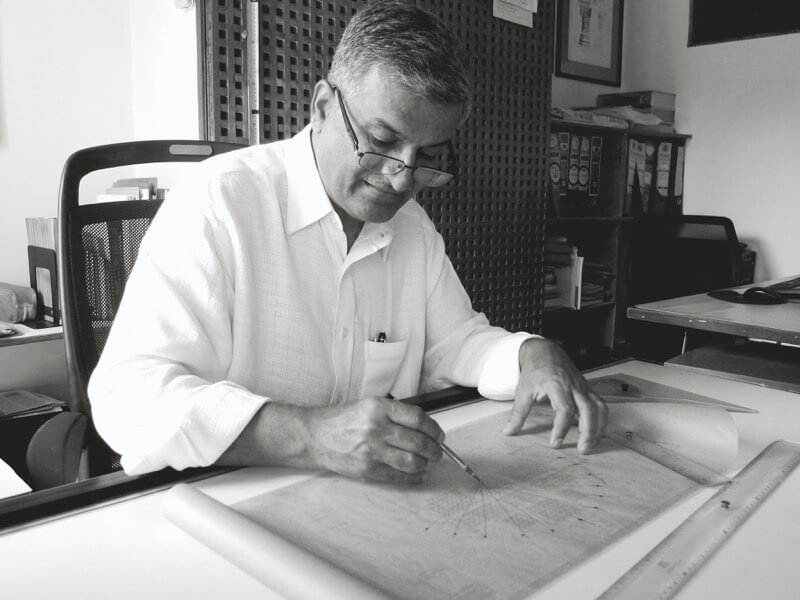 Shah started working by himself with the help of one peon. Slowly, the studio grew bigger with the addition of a draftsman and a model maker, and then came engineers and architects. With a modest Bajaj scooter Shah's team started visiting various sites all over the city and beyond. Today, the practice has on an average 21 colleagues from all over the country and the world. The team comprises of architects, engineers, research assistants, model makers, accountants, and administrative staff who all work with utmost honesty and dedication. The practice has contributed extensively to the society at large not only by designing several iconic buildings of various scales but also through many publications and regular lectures and exhibitions that are hosted at their office in Ahmedabad.
Shah believes in making architecture that is true to its time as history confirms that buildings which appropriate their time, place and climate, endure. In his buildings, there is a constant will to search for solutions that manipulate light and ventilation to their advantage. He studies vernacular techniques and learns from the wider Indian exemplars, and all these aspects get translated and find their way into his buildings.